VARIATIONS TO SUIT YOUR NEEDS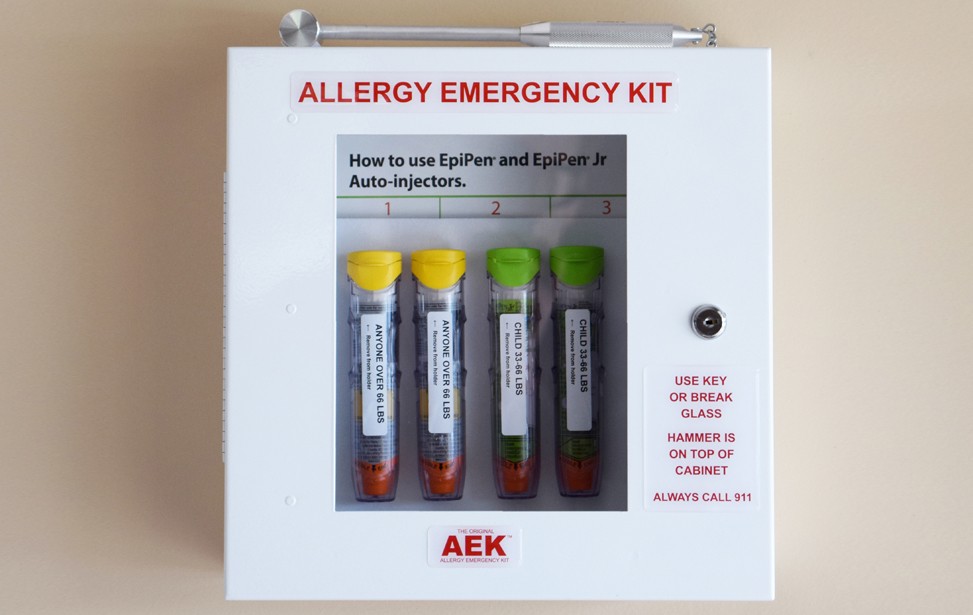 The Original AEK for Public Areas
Locking & Non-Locking Variations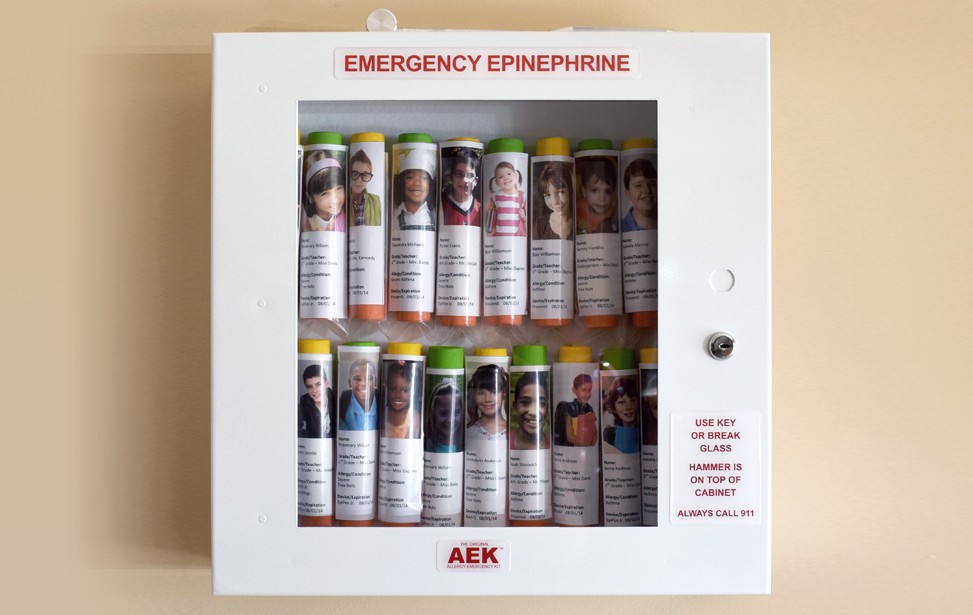 The 16-Unit Epinephrine Storage Cabinet for Nurse's Offices
Original AEK/AED Combo Cabinet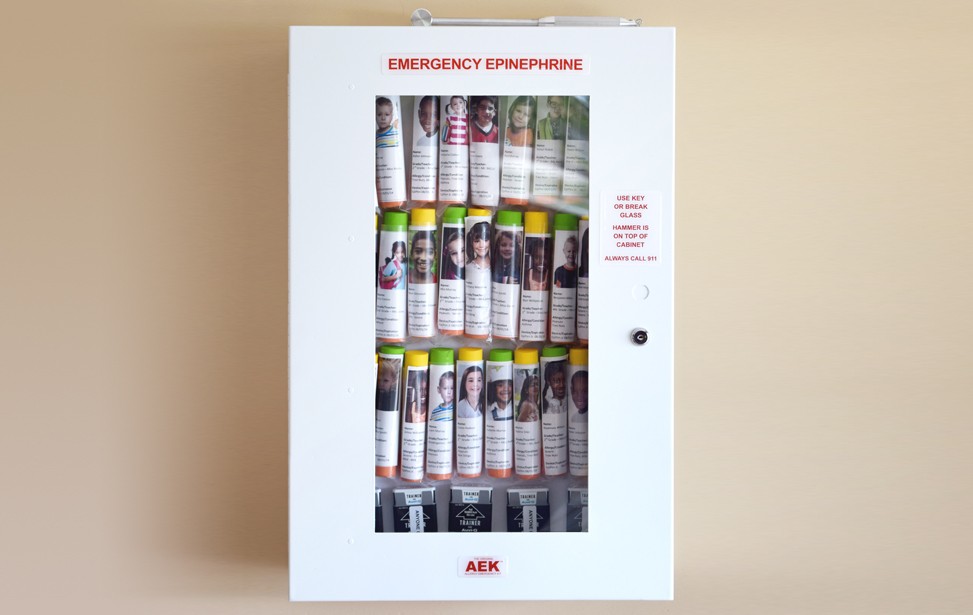 The 32-Unit Epinephrine Storage Cabinet for Nurse's Offices
The 20-Unit Inhaler Cabinet
Customized Epinephrine Auto-injector Cabinets
AEK is designed to be the optimal solution for every institution. Simply select the features that best suit your unique needs.

SECURITY VARIATIONS
Locked Cabinet with Breakaway Entry (includes hammer and safe proprietary acrylic window)
Thumb handle with no lock or hammer
We will not include a lock on a cabinet that does not have a secondary access method (breakaway window) unless the rest of the building is already protected with Original AEK™ hallway/lunchroom cabinets
ALARM VARIATIONS
No Alarm (Recommended, since full concentration is needed to read instructions)
Cabinet Door Alarm
Breakaway Alarm
Custom Alarm Solutions
PRIVACY VARIATIONS
Clear Breakaway Window
Black Privacy Window (Nurse's Office only)
LABELING VARIATIONS
Allergy Emergency Kit
Emergency Epinephrine
Allergy/Asthma Emergency Kit
Asthma Emergency Kit
Albuterol Emergency Inhaler
Custom Text
INSTRUCTION VARIATIONS
EpiPen®
Auvi-Q™
Benadryl
Generic Epinephrine by Lineage Therapeutics
Generic Epinephrine by TEVA
AED READY
Optional AEK/AED Cabinet (Public Areas)
AED Conversion Kits Available
Customized Naloxone Cabinets
NARCAN CABINET VARIATIONS
Locking Narcan Cabinet
Non-Locking Narcan Cabinet with Alarm
Combination Narcan - Epinephrine - AED Cabinet
Combination Narcan - Epinephrine - AED - Bleedpack Cabinet
Combination Narcan - AED Cabinet
SIZE VARIATIONS
13" x 13"
17" x 17"
17" x 26"
Custom Sizes
PANELS & ECONOMY CASES
Basic allergy emergency protection ensures every school can be covered, regardless of budget.
HOME & CLASSROOM VERSION
Alerts your child's guardian or teacher where the emergency medication is.
AEK FOR RESTAURANTS
Serving seafood, peanuts or other common allergens? Protect your allergic patrons!